Hold the presses, kids...one of our favourite cartoonists just wandered into the Whores of Mensa party.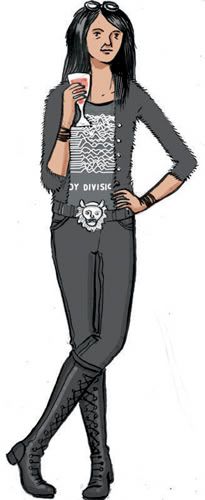 Bishakh Som, sui generis comics immortalizer of kitties, utterly unique creator of previously unimaginable environments, won the Xeric grant in 2004 for his collection
Angel
. He contributed to Hi-Horse back when that redoubtable assemblage of Joan Reilly, Howard Arey and Andrice Arp still published - today he's turning into a bona fide art star, with his first
gallery show
this year.
Check out Bishakh's Lambiek
profile
. Want a story? Take a peek at his amazing tale of
Crumbelina
or embrace the emotional tectonics of
Come Back to Me
- both will knock your socks off.
Thanks, Bishakh!
More cover drawings, coming up!
EDIT: Mr. Som has informed us that he now has a real live website:
http://www.bishakh.com
It is pretty amazing, so go check it out!