Yay! Dave and James are here. And they've brought the essential props for a memorable get-together: ciggies and booze.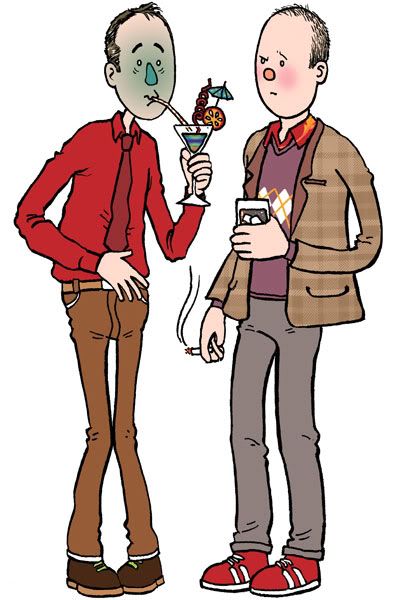 Dave O'Connell does a smashing strip called Tozo - in fact, he may be well-known to you as
. Lately he's shown some amazing range, launching a line of minicomics detailing (mostly fictional) comic episodes in the life of the late, great Queen Mother; and drawing tears with a stylish French romance he started as part of Josie Long's 100 Days project.

James Petrie, Dave's husband, looks on in bemusement at this blur of activity (not to mention Dave's affection for oddly coloured drinks!)


Dave and James are wonderful hosts in their own right, and we're glad to have them at the Whores 5 party!


We'll let you guess the outcome of Dave's rendez-vous with that cocktail - it does look deadly! In the meantime, why not check out his work at his website?


The deadline for submitting work to Whores of Mensa 5 is this coming MONDAY, 1st June...how are you doing? If you'd still like to submit a drawing, but would prefer to spend the Bank Holiday in the sun, just comment and let us know, or drop Ellen a line at ellen (at symbol) littlewhitebird dawt calm We're prepared to be lenient!


Thanks, Dave, for a smashing drawing! Hope your better half will get you home all right!