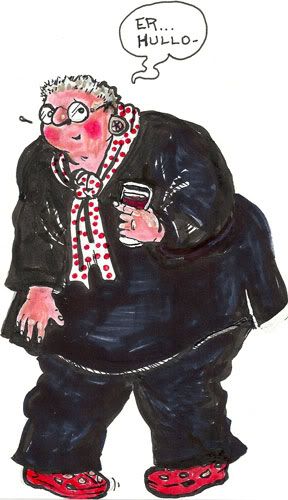 Many thanks to
Lee Kennedy
for the first of what we hope will be many submissions for our composite party-down cover for Whores of Mensa 5.
Don't be a wallflower - send yours in ASAP! Final deadline is June 1st, and we'd like as many international cartoonists as possible to submit a fun, possibly frisky drawing of themselves in full party mode.
Other news? WoM Ellen Lindner will be at table 16 at this year's amazing
UK Web and Minicomix Thing
, taking place in the Great Hall at illustrious Queen Mary University, Mile End, London. Come on by to see the cream of England's small press scene, and possibly pick up a copy of Ellen's
Undertow
graphic novel.
Ellen will be happy to answer any and all questions regarding Whores 5 - hope to see you there!
EDIT: Interested in submitting a portrait? Please make your portraits like Lee's, full-length, and at an adequately high resolution to print well at about 15 cm/6 inches, and email them to Ellen at ellen at little white bird dawt calm. Thank you!