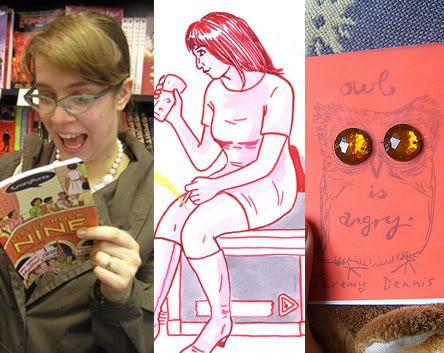 All 3 of the current generation of Whores of Mensa contributors have new stuff for you to look at, love, and possibly buy!
First up, la bella Mardou (center). Her long-awaited new entry to her Manhole series is here. Number 3 is big (40 pages!) and beautiful. Everything you need to know about ordering it, including some sweet preview pages, is
here
.
Second, we've got Jeremy, with
Owl is Angry
(right). It's got hand-sewn ornamentation and it's shivering with carnivorousness. Love! Ordering info
here
Ellen's first-ever educational graphic novel,
Little Rock Nine
, just hit stores! (Crazy image left -
preview
).
Get a glimpse of our
Gosh!
photoshoot
here
courtesy of Miss
, a stalwart ally of the WoM crew. Thanks ever so much for the write-up, Sarah!
More news very shortly concerning a very exciting art show....